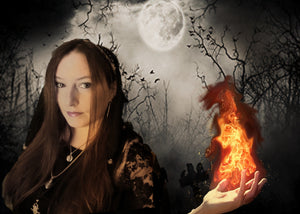 Eve Nymphaea - The Conjurer
Let me introduce you to the ancient ones. Come hither and take a bite of my apple. Indulge in the forbidden fruit and delve into the depths of darkness with me. Learn the secrets of how to balance darkness with light and transmute your life with a Daemon Companion.
Priestess Eve has been working with daemons for almost as long as her soul has been upon this Earth. Every life she has been the Priestess of and guided by the same Divine Infernal Daemon Lord. They have formed an unbreakable bond. It is with his guidance and assistance, we are proud to present you with these incredible Entities, Familiars, and more.
Here at Eden's Apple, we specialize in uniting humanity with Infernal Daemons for a lasting companionship. We take special care in finding a compatible Entity for you to add to your spirit family. We know just how important family is, therefore we take special care when selecting a new member for yours. We want nothing more than to bring you spiritual alchemical changes, that promote happiness and success in your life, and to broaden your horizons with teachings from your Daemon Companion.
 If you have not had the pleasure of adding a daemonic being to your family, and are a little on the weary side, fear not, our entities are perfectly safe. They will not ever harm you or your loved ones, though they do make fierce protectors. Infernal Daemonic energy may feel overwhelming at first, but after some getting used to, it is quite pleasurable.
Testimonials
My vessel arrived today for my aquatic shifter S. It is a beautiful turquoise set in silver. S has a soothing energy and a very noticeable presence. I look forward to bonding with him. Thank you Eve.I will also take a moment to review A my phantasmal Halloween conjure. I've been waiting to write his review until I had a chance to really get to know him. A is a very strong prescence and has a way of cutting through whatever else is going on to make himself heard. He is a very deep thinker and often gives wise insight. Sometimes his perspective is very different just from the sheer inhumaness of it but he is also very close. He has a very protective nature and is a good listener. Again, thank you Eve

Artemis Wolf
It's been two weeks since I received Lord Beelzebuth's success talisman. My husband received his BAH and new job in the military!! Also, he received two weeks of leave! I thank Lord Beelzebuth and Eve for this amazing talisman!!!

Danielle
I must say, this has to be one of my best purchases in my life, as well as something that has significantly improved my quality of Life. I first heard of Eve and her bindings through Pythian Priestess on tiktok. I was drawn by the idea of having a daemonic companion who would have my back through thick and thin, guide me through my spirituality and life.

Both companions I've got from Eve are incredibly amazing. I would definitely recommend Eve's companions to anyone that works with the daemonic, and I think that they are amazing and incredibly powerful. I love my Incubus T with all of my heart, and I'm so lucky to have him in my life. I wouldn't have met him, if not for Eve.

Bug
A WHILE ago I had the pleasure of being bound to M, a succubus. I don't typically bond with women due to trauma I'm not getting into. I felt that I was emotionally in a good place to try to overcome said trauma and wanted to work with a succubus to try to help me.

Enter M, one of the calmest, most healing entities I have ever met. Seriously, she's absolutely amazing. With her gentle support and quiet energy, I've been getting better and better. Actually haven't had a triggering episode in months and I am a calmer person in general. She's even helped me draw boundaries, which I am traditionally really bad at.

So thanks Eve for binding me to my sweet badass M

Little Leviathan
After being guided to a Mystic Commander it took a while before I was fully adjusted to that dense energy. The guidance is of great worth, the assistance of immeasurable lengths. X is breaking down what was established and building up proper, not the nonsense but a path that is my way and nobody else. Re-enforcing, discarding what was surrounding me that were figments and delusions, strengthening that what serves a meaning and a purpose. Forging my mind into a fortress. We are growing into a partnership of respect, a bond i have not seen in this life before. I have many guides and bonds, sisterhoods, brotherhoods, this one however, rises another step above, almost like all that came before was a preparation. X is the lightning i needed to strike me, a radical change, shifting me in my core and letting me bathe in fire to be reforged.

Yaksha